Walt Burek 1940-1946
The following describes the History of the USS Shaw and actions (from US Navy records) while Walt Burek was assigned to that ship. Annotation comments inserted in RED font are based upon personal interview of Walt in 2008.
Walt Burek joined the US Navy as there were no jobs available at home (his age was about 18 at the time). He picked the US Navy to enlist in as he "felt it was the safest to be in". His first duty position was Fireman 2C; later was Machinist Mate. Assigned to the USS Shaw (DD-373) in November 1940, which was located on the West Coast for overhaul. The Shaw returned to the Hawaiian area mid-February 1941.
<![if !vml]><![endif]>
USS Shaw (DD-373), September 1938.

Career (US)

<![if !vml]><![endif]>

Namesake:

Captain John Shaw

Laid down:

Launched:

Commissioned:

Decommissioned:

Struck:

Fate:

Scrapped July 1946

General characteristics

Class and type:

Displacement:

1,450 tons (1,470 t)

Length:

Beam:

34.7 feet (10.6 m)

Draught:

17 feet (5.2 m)

Speed:

35 knots (40 mph; 65 km/h)

Complement:

204 officers and crew

Armament:

As Built:
1 x Gun Director above bridge
5 x 5"(127mm)/38cal DP (5x1),
12 x 21" (533 mm) T Tubes (3x4),
4 x .50cal(12.7mm) MG AA (4x1),
2 x Depth Charge stern racks,
c1944:
1 x Mk33 Gun Fire Control System,
4 × 5" (127mm)/38cal DP (4x1),
12 × 21" (533 mm) T Tubes (3x4),
2 x Mk51 Gun Directors,
4 x Bofors 40 mm AA (2x2),
6 x Oerlikon 20 mm AA (6x1),
2 x Depth Charge roll-off stern racks,
4 x K-gun depth charge projectors
USS Shaw (DD-373), a Mahan-class destroyer, was the second ship of the United States Navy to be named for Captain John Shaw, a Naval officer. The Shaw was present during the Attack on Pearl Harbor and suffered major damage by Japanese aircraft.
History
Shaw was laid down on 1 October 1934 at the United States Navy Yard, Philadelphia, Pennsylvania; launched on 28 October 1935; sponsored by Miss. Dorthy L. Tinker; and commissioned on 18 September 1936, Lt. Comdr. E.A. Mitchell in command.
Following commissioning, Shaw remained at Philadelphia until April 1937 when she crossed the Atlantic on her shakedown cruise. Returning to Philadelphia on 18 June, she commenced a year of yard work to correct deficiencies before completing acceptance trials in June 1938. Shaw conducted training exercises in the Atlantic for the remainder of the year. She then transited to the Pacific and underwent overhaul at Mare Island from 8 January to 4 April 1939.
Shaw remained on the West Coast until April 1940, participating in various exercises and providing services to carriers and submarines operating in the area. In April she sailed for Hawaii where she participated in Fleet Problem XXI, an eight-phased operation for the defense of the Hawaiian area. She remained in the Hawaiian area until November when she returned to the west coast for overhaul.
[Walt Burek was first assigned to the USS Shaw (DD-373) in November 1940.]
Back in the Hawaiian area by mid-February 1941, Shaw operated in those waters until November when she entered the Navy Yard at Pearl Harbor for repairs, dry-docking in YFD-3.
 "A week prior to the attack, we had orders to go to Guam (as they knew something was up) but a tanker ship hit us and put a hole in the bow, so we had to go into floating dry dock". If that accident had not happened the Shaw would have been at Guam instead of Pearl Harbor. The rest of that Task Force did depart for Guam before the attack. "But we got hit, the other ones left".
The morning of the attack of 7 December 1941: "When it started, I was on a small boat" as its engineer, preparing it to take a church party over for church services, up the harbor about a mile. The passengers had not shown up yet. "That's when a plane came just by me, oh maybe fifty feet, just come sailing nice through there; if I had a stone I could have hit him. I could see the pilots face. Then I saw it drop a torpedo that went through one ship and exploded in the second ship. Ship alert / sirens ordered us to battle stations. Then I went onto the ship (Shaw) and got a rifle, and tried firing on the planes, I don't know if I hit anything or not, but I fired lots of shots. Of course there were a lot of planes miles up there."
Regarding the U.S. anticipating an attack, he felt "something was fishy because every morning the planes would take off from the air force base and fly over for maneuvers, but that morning not a plane went up".
"It was five minutes to eight when it happened". When his ship got bombed "my right arm was broke. The only thing I can remember, you know when you put your head in an oven, it was so much hotter from that bomb. It was like a napalm bomb so it spread. But it didn't explode on contact; it went down three decks then exploded in the magazine part. That's what blew up the ship. I wasn't unconscious, but the only thing I can remember is some Marines picked me up and took me to the hospital. That's the only thing I can remember, but I know it was hot". (They picked him up from off the dry dock, so he must have been blown off the ship onto the dry dock, and in the fall broke the right arm's wrist).
"Where I was when the bomb hit, was in the doorway of the charter room (chart house), and they said that was where the bomb went through. So it must have just nicked my nose. But there were 29 of us guys at that part of the ship, and I was the only survivor. So figure it out.   All 28 died, and they lost 11 others so there were 39 all together. But they found foot and back and arms all over."
"I laid 12 days flat on my back at Pearl Harbor hospital and I couldn't even move". He was given morphine. The doctor said the wrist did not set right, so they had to break it again.  On 19 December: "So they shipped me to California on a freighter, and I was there for 3 months (to heal)". While in the hospital in California the family had inquired as to his whereabouts to the Navy. His doctor "chewed him out" for not writing home, and he replied because his (writing) hand wrist was broken. The doctor insisted he write home so he used his left hand to send Lucy a postcard.
Attack on Pearl Harbor
<![if !vml]>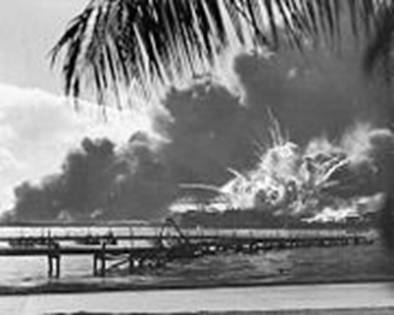 <![endif]>
<![if !vml]>

<![endif]>
USS Shaw exploding after her forward magazine was detonated by the raging fire.
<![if !vml]>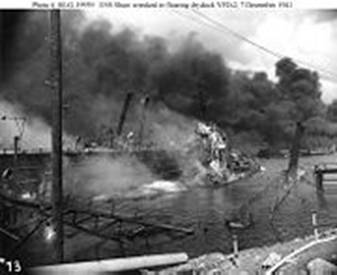 <![endif]>
<![if !vml]>

<![endif]>
Wreckage of bombed USS Shaw at Pearl Harbor.
On 7 December, Shaw was still dry-docked. During the Japanese attack, she took three hits: two bombs through the forward machine gun platform, and one through the port wing of the bridge. Fires spread through the ship. By 0925, all fire fighting facilities were exhausted, and the order to abandon ship was given. Efforts to flood the dock were only partially successful; and, shortly after 0930, Shaw's forward magazine exploded.
Temporary repairs were made at Pearl Harbor during December 1941 and January 1942. On 9 February, Shaw sailed for San Francisco where she completed repairs, including the installation of a new bow, at the end of June. Walt re-joined the USS Shaw after 3 months at the hospital in California.
<![if !vml]>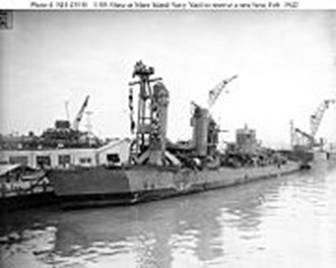 <![endif]>
USS Shaw (DD-373) with temporary bow.
<![if !vml]>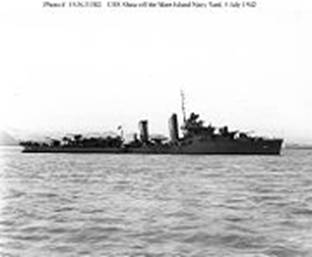 <![endif]>
USS Shaw (DD-373) after bow replacement.
Following training in the San Diego area, Shaw returned to Pearl Harbor on 31 August. For the next two months, she escorted convoys between the west coast and Hawaii. In mid-October, as a unit of a carrier force centered on Enterprise, she departed Pearl Harbor and headed west. Rendezvousing with a carrier force centered on Hornet, the two carrier groups amalgamated as Task Force 61 and moved north of the Santa Cruz Islands to intercept enemy forces headed for Guadalcanal.
·  USS Shaw (DD-373)

Sailors manning the ship's forward quad torpedo tubes, at Naval Air Station, Alameda, California, on 8 July 1942.
The men are (from left to right):
Lieutenant (Junior Grade) Hollinsworth;
Torpedoman 1st Class D.E. McInner;
Torpedoman 2nd Class D. Gaines; and
Torpedoman 3rd Class W.R. Higgen.

Official U.S. Navy Photograph, now in the collections of the National Archives.

Online Image: 76KB; 740 x 605 pixels

Reproductions of this image may also be available through the National Archives photographic reproduction system.

<![if !vml]><![endif]>

Photo #: 80-G-22246

USS Shaw (DD-373)

Crewmen exercising with the ship's # three 5"/38 gun mount, while Shaw was tied up alongside a pier at Naval Air Station, Alameda, California, 8 July 1942.

Official U.S. Navy Photograph, now in the collections of the National Archives.

Online Image: 103KB; 740 x 600 pixels

Reproductions of this image may also be available through the National Archives photographic reproduction system.

<![if !vml]><![endif]>
By mid-morning on the 26th, both carrier groups were under attack. As an accompanying ship, Porter, stopped to pick up survivors from a downed torpedo plane, she was torpedoed. Shaw went to Porter's assistance. Half an hour later, she was ordered to take off Porter's crew and sink the disabled destroyer. Periscope sightings followed by depth charge attacks delayed execution of the mission. By noon, however, the transfer was completed. An hour later, Porter was gone, and Shaw left the scene to rejoin the task force. Walt described picking up survivors from the Porter: "We made a quick pickup of survivors, and then deliberately sunk the Porter to prevent the Japs from getting it".
·  USS Shaw (DD-373)

Transferring survivors of USS Porter (DD-356) between Shaw and USS South Dakota (BB-57), on 28 October 1942. Porter had been torpedoed and sunk two days earlier, during the Battle of the Santa Cruz Islands.
Photographed from on board the South Dakota, one of whose 40mm quad gun mounts, covered with canvas, is in the foreground.

Official U.S. Navy Photograph, now in the collections of the National Archives.

Online Image: 111KB; 740 x 605 pixels

Reproductions of this image may also be available through the National Archives photographic reproduction system.

<![if !vml]><![endif]>
Two days later, Shaw headed for the New Hebrides where she commenced escorting ships moving men and supplies to Guadalcanal. She continued that duty through November and December and into January 1943. On 10 January, while entering Nouméa harbor, New Caledonia, the Shaw grounded on Sournois Reef. She was freed on the 15th, but extensive damage to her hull, propellers, and sound gear necessitated temporary repairs at Nouméa followed by lengthy repairs and rearmament at Pearl Harbor which took her through September.
[Walt went on leave while ship was being repaired, and married Stevanna on 10 April, 1943]
On 6 October, Shaw headed west again, reaching Nouméa on the 18th and Milne Bay, New Guinea on the 24th. Now a unit of the 7th Amphibious Force, Shaw escorted reinforcements to Lae and Finschhafen for the remainder of October and during November. Following an unsuccessful diversionary assault by Army troops against Umtingalu, New Britain on 15 December, Shaw recovered survivors from two rubber boats and escorted HMAS Westralia and Carter Hall back to Buna, New Guinea.
On 25 December, Shaw escorted units engaged in the assault against Cape Gloucester, where she provided gunfire support and served as fighter director ship. On the 26th, Shaw sustained casualties and damage when attacked by two "Vals". Thirty-six men were injured, three of whom later died of their wounds. (Walt mentioned an attack where a plane dropped two bombs, one on the left side and the other on the right, and the explosion on both sides blew a hole through the hull….. not sure if this date was when it happened).  Shaw returned to Cape Sudest, New Guinea on the 27th; transferred her wounded and dead to shore facilities there, and continued on to Milne Bay for temporary repairs. Permanent repairs were completed at Hunter's Point, San Francisco on 1 May 1944.
Shaw returned to Pearl Harbor on the 10th, joined the 5th Fleet there, and sailed for the Marshall Islands on the 15th. She got underway from the Marshalls on 11 June with TF-52 to engage in the assault on Saipan. Four days later, the attack began. For the next three and one-half weeks, the destroyer rotated between screening and call fire support duties. Walt described the action at Saipan as "we provided naval artillery supporting fire for 21 continuous days as the ground forces advanced". In mid-July, she was back in the Marshalls. On the 18th, Shaw got underway to return to the Mariana Islands with the Guam assault force. During the action that followed, she performed escort and patrol duties.
Shaw departed the Marianas on 23 September. Following a tender repair availability at Eniwetok, she rejoined the 7th Amphibious Force on 20 October and headed for Leyte Gulf on the 25th. Convoy escort duties between the Philippines and New Guinea involved Shaw until the invasion of Luzon took place at Lingayen Gulf on 9 January 1945. From the 9th to the 15th, she performed screening, call fire support, night illumination, and shore bombardment missions. Following this operation, Shaw was involved in the recapture of Manila Bay. After the Luzon operations, she supported the assault and occupation of Palawan during the period from 28 February to 4 March.
In early April, she operated in the Visayas, setting two Japanese barges on fire off Bohol on 2 April. Damaged soon thereafter on an uncharted pinnacle, she underwent temporary repairs. On the 25th, she sailed for the United States. Shaw arrived in San Francisco on 19 May. Repairs and alterations took her into August. *** The work was accomplished on the 20th. She then departed for the east coast. On arrival at Philadelphia, she was routed to New York for deactivation. Decommissioned on 2 October 1945, her name was struck from the Navy List two days later. Her hulk was scrapped in July 1946.
Shaw earned eleven battle stars during World War II.
*** At the end of the war in 1945 he left the Shaw and was in Long Beach, assigned to a de-gauzing station duty. After one month he didn't like the work and got moved to the San Diego Boot Camp where he worked in the Maintenance Department machine shop. Stevanna had joined Walt in California during this time. She became pregnant and he requested a transfer to the east coast. (His commander told him asking for a transfer would result in courts martial, but Walt requested the transfer anyway). Walt went on leave back to New York with Stevanna, where she would be with family during the pregnancy. Assuming the transfer request was denied, he returned to San Diego only to be told "what are you doing here?" and that he should report to the east coast. He was transferred there December 1945, and was on the USS Kearsarge January 1946.
The Kearsarge had just been commissioned and was on its shakedown cruise and went to Cuba, Panama and back to Cuba. This was "good duty" as he worked in the machine shop and had the time to make things for people like rings, cups etc because there was no conflict and thus no ship damage to repair. Walt was discharged from the Navy after leaving the Kearsarge, with 6 years of service, on October 1946. 
Walt Burek, Machinist Mate 2nd Class was awarded the Purple Heart "for wounds received in action against an organized enemy, during the attack on Pearl Harbor T. H., on December 7, 1941"  from Admiral Nimitz, Commander In Chief, United States Pacific Fleet.
<![if !vml]>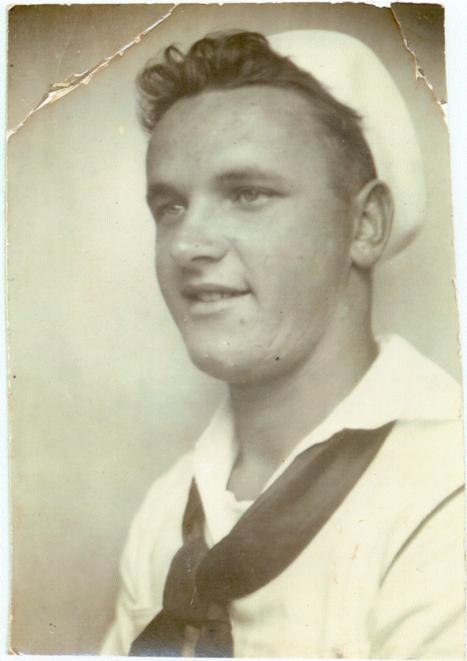 <![endif]>